When the word entrepreneur is said most people think about someone who has gone out and started their own business(es). Generally, an entrepreneur is an adult. But when an entrepreneur is a child, well that is something pretty special.
I have been working with Damion Hickman for over 10 years as my outside graphic designer. True, he is an awesome designer, known in the wine label market and in the bike industry but he has taken a back seat when it comes to the publicity his son is getting.
His son, Ryan Hickman, has become well known as the "7-year old who started his own recycling business." It all started 4 years ago when he was just 3 years old and realized that recycling helps the sea animals. From that point on, he became obsessed with recycling and has found excitement and joy in the whole recycling process. In fact, when he visited RePlanets Rancho Cucamonga he thought it was the coolest field trip ever.
Below is my personal interview with this amazing little guy: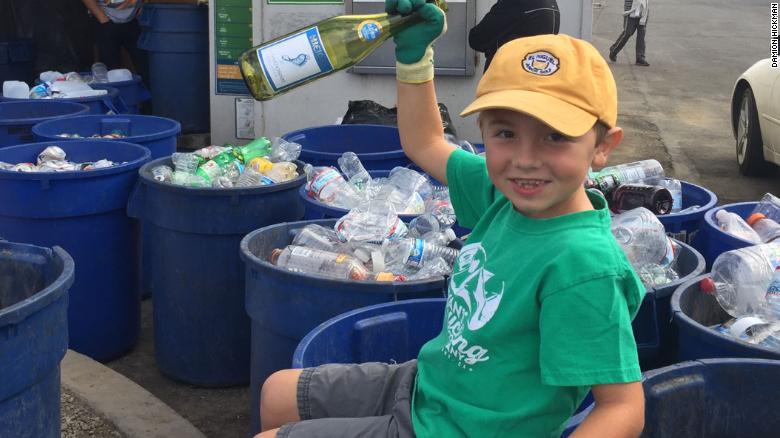 JS: What made you start recycling?
RH: I went to the recycling center with my dad when I was 3 years old. I liked sorting all of the cans and bottles.
JS: How have your parents helped you?
RH: They help me sort all the recycling and my dad drives me around to my customers and to the recycling center.
JS: What was it like to be on Ellen?
RH: It was pretty cool. I got a $10,000 check and a car to help me with picking up recycling from the neighbors.
JS: What is the craziest thing that has happened to you since your video went viral?
RH: People taking pictures of me when we go out and they know who I am even though I don't know who they are.
JS: What news outlets have picked up on your story?
RH: ABC World News, CNN, CNBC, PBS, Fox News, MSNBC, Aljazeera, Voice of America, USA Today, Good Morning America, Ryan Seacrest show, Bill Handel – KFI AM 640 radio, The Ellen Show, A whole bunch of social media video places like Upworthy, 60 Second Docs, Now This, What We Seeee, and a whole bunch I can't remember from around the world. I just shot some video for an upcoming episode of SELF MADE which is a new series on Amazon Prime.
JS: What does the future look like for you? Will you continue to do this?
RH: Yes I will continue to recycle and I will buy a garbage truck someday. (I can't wait see this in Damion's driveway and I'm sure Ryan will drive his trash truck to high school)
JS: What do you want to be when you grow-up?
RH: A garbage man
JS: I hear you donate to the Pacific Marine Mammal Center. How do I buy one of your shirts?
RH: Go to www.ryansrecycling.com and you can buy one of my shirts for $13. I donate all the money to help with getting food and medicine to the sick and injured seals and sea lions. So far, I have donated about $5000.
Ryan is an amazing kid, but he also reminds me that just because our children are young doesn't mean they can't do great things! Encourage your children to find what they love and help them make a difference!